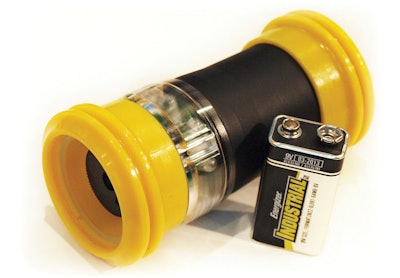 Flash-bangs are useful tactical distraction devices. But used improperly, they can cause fires and inflict injuries on innocent and not-so-innocent people. They've also killed and injured officers.
Steven Bronson of Cejay Engineering says one of the reasons the company decided to market its new Hero marking product as a distraction device was to protect officers and agencies from accidents with flash-bangs. The Hero is a battery-operated distraction device that emits an ear-splitting 130 decibels and flashes five times per second a blinding 600 lumens of light.
The Hero is not intended to replace flash-bangs. Bronson says he sees the device as an alternative with several more uses than conventional flash-bangs. "A conventional flash-bang does more than distract you, it disrupts you. The Hero is a distraction device; there's no arc, flame, or overpressure," says Bronson. "It can be used in a meth lab."
Although the Hero does not produce an overpressure, it is designed for tactical distraction. Bronson says the Hero's loud wail and 360 degrees of bright light can buy a tactical team the few seconds of distraction it needs to make a move. "It's all about violence of action," Bronson explains. "All you need is two to three seconds of distraction and with the Hero you can have that without all the negatives of heat, smoke, and overpressure."
The Hero is a tube-shaped device about half the diameter of a 12-ounce soft drink can. It has rubber bumpers to protect it from shock and weighs a mere seven ounces with battery. It can be powered by a nine-volt alkaline or lithium battery.
A deploying officer can set the Hero to delay activation for 1.5 to 30 seconds as needed. Once deployed the Hero will scream and flash for about 60 seconds. Operators turn it off by replacing the activation pin. Bronson recommends that each member of an entry team carry a pin for shutting down the device. The extra pins are sold separately.
Bronson says one of the key selling points of the Hero is that it's reusable. He calculates that each battery can power six 60-second distraction deployments. Once the 60 seconds is up, the device emits a steady beep and an intermittent low-intensity flash until the battery is exhausted.
Originally developed as a device for marking objects and landing zones to make them visible from helicopters, the Hero is a true multipurpose tool for law enforcement. It can be used to mark evidence for later pickup. "Let's say you're chasing a guy and he's throwing drug bindles out the window of his car," Bronson explains. "You can toss out the Hero to mark where the drugs landed so you can come back and collect them."
The Hero can take a lot of punishment. Bronson says it was dropped 100 feet from a helicopter during testing and continued to operate. It's also been run over by a Chevy Suburban with no effect. And it can survive a plunge into 33 feet of water, although it's not designed for marine use.
A variety of agencies are testing and evaluating the Hero, including the Drug Enforcement Agency, Customs and Border Protection, and county and municipal law enforcement. The device has also been incorporated into less-lethal training programs of the National Tactical Officers Association.
Bronson says one agency has inquired about buying Hero devices for each of its patrol officers. The agency's brass believes the device may be useful in active shooter situations. "You don't sit around and wait for SWAT anymore," Bronson says. "The Hero could get a shooter's attention directed away from responding officers and give them a chance to attack or disarm him."
The Hero is now available. Price had not been finalized at presstime.