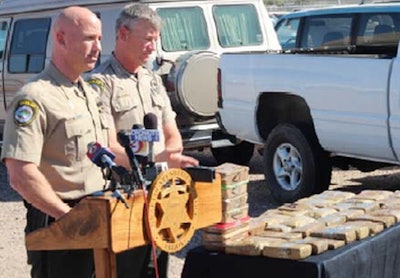 Arizona law enforcement agencies and federal agents dismantled what is believed to be a major smuggling ring for the Sinaloa Cartel, seizing $1.5 million in narcotics, collecting 19 weapons, and arresting an illegal immigrant who had been deported two weeks earlier.
The busts, which were part of Operation Pipeline Express, were triggered by a traffic stop on Halloween. The 17-month investigation led to the arrests of 76 people in three separate actions in the Phoenix area and areas south, including Casa Grande and Maricopa.
Two of the seized weapons have been traced to the ATF's "Fast and Furious" gun smuggling operation, Pinal County Sheriff Paul Babeu tells the East Valley Tribune.
At about 3 p.m. Monday, a Pinal County deputy patrolling near the town of Stanfield spotted a brown, Nissan sedan travelling over 50 mph in a school zone.
The deputy activated his emergency lights, and the vehicle accelerated. The driver, later identified as 36-year-old Francisco Morales, then began driving erratically.
A second deputy attempted to deploy stop sticks at Barnes and Russell roads to stop Morales' vehicle. The suspect swerved toward the deputy, who dove off the roadway to avoid being struck.
The vehicle then left the roadway and drove into the desert, where Morales fled on foot. Deputies followed footprints and located him, hiding in a canal.
Deputies searched the vehicle and recovered three homemade, burlap backpacks with 45.75 pounds of black tar heroin, 33.85 pounds of white tar heroin, and 8.8 pounds of crystal methamphetamine. The narcotics carry an estimated street value of $1.55 million.
Morales was apparently working as a transporter for the Sinaloa drug cartel. He had been arrested on Oct. 13 in the initial Pipeline Express bust and deported, according to U.S. Immigration and Customs Enforcement's homeland security investigations.
"Unlike the last catch-and-release, Morales will be prosecuted in Pinal County and held accountable to the full extent of the law for bringing his poison into America, and almost killing one of my deputies," Sheriff Babeu said in a statement.
Because there wasn't sufficient evidence at the scene to charge Morales, ICE ultimately deported him to Mexico. After Monday's arrest, prosecutors charged Morales with possession of drug paraphernalia, aggravated assault, felony flight and smuggling narcotics.
Chief Henry stated, "It's incredibly frustrating for law enforcement to see the people who are supposed to looking out for the security of our nation's borders release a known criminal, who effortlessly makes his way back to Pinal County; not to take the jobs Americans don't want, but to smuggle the worst drugs out there. I'm sure our citizens must feel the same way."
During last week's raids, authorities seized more than 2 tons of marijuana, 19 weapons and nearly $200,000 in cash. The drug ring apparently smuggled more than 3.3 million pounds of marijuana, 20,000 pounds of cocaine and 10,000 pounds of heroin into the U.S. in the past five years, reports the Los Angeles Times.
Officials said the ring used backpackers and trucks to move drugs from the border to a network of stash houses in the Phoenix area. After arriving in Phoenix, the smugglers sold the drugs to distributors from various states.
By Paul Clinton
Related:
How Cartels Smuggle Narcotics Into Arizona