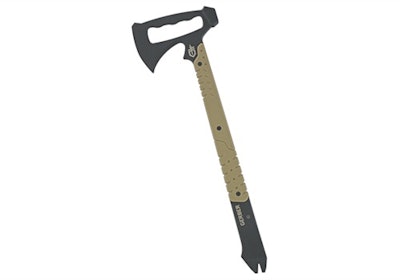 A law enforcement officer's ability to gain access to a structure or vehicle in a timely fashion can mean the difference between life and death. Tactical teams know that breaching is the foundation from which teams work. If they can't get in, then they have failed.
The Gerber knife company has addressed this issue with its new Downrange Tomahawk. At first glance, it looks like a multi-role workhorse. It is a bit longer than traditional tomahawks, but possesses good weight and balance. It is made from 420HC, a common high-carbon steel that is corrosion resistant and easy to sharpen. The tomahawk's black Cerakote finish is durable and can take a beating. Its full tang design fits sturdily in your hands along with the tan G10 handles, which add a bit of necessary girth to the grip.
Gerber has deemed the Downrange Tomahawk a "three tiered" breaching tool. The axe head serves as a hammer, chopper, and leverage point for prying. The folks at Gerber obviously put some thought into the design with reference to prying. The G10 scales stop a couple of inches short of the prying end to allow adequate space for insertion. A friend of mine put the prying feature of the Downrange Tomahawk to the test on several occasions during actual tactical operations, and it performed beautifully.
My only criticism is directed at the MOLLE holster system that houses the Downrange Tomahawk. The nylon webbing and snaps proved to be less than desirable in the area of retention when mounted onto an operator's back. Overall, I believe Gerber has answered the call for a lightweight functional tool that could be carried in patrol cars or armored vehicles to meet various breaching needs.
Overall Length: 19.27 inches
Weight: 1.9 pounds, 2.5 pounds with sheath
Steel Type: 420HC
Handle Material: G-10
Warranty: Lifetime
Price: $285
A.J. George is an officer with the Scottsdale (Ariz.) Police Department currently assigned to the advanced training unit as a firearms and tactics instructor.