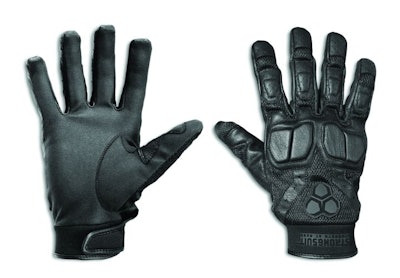 Law enforcement is a very "hands-on" profession. Think about it; pretty much everything we do requires the use of our hands. Considering they are such a crucial tool of our trade we need to protect them. We've all been exposed to extreme hot and cold weather, the burn of a flare or a flash-bang, or the scare of a needle stick or knife cut. A good pair of gloves can all but eliminate these hazards and ensure we go home with the same number of unscathed fingers we went 10-8 with.
Founded in 2009, StrongSuit is a relatively new glove company. Gloves are all they make and they take great pride in their simple yet successful business model. For review, the company sent me several different models of tactical gloves, each designed to perform a specific law enforcement task. StrongSuit may only make gloves, but they make a pair for just about every job.
I'll try to categorize the gloves to give you an idea of StrongSuit's many offerings. Starting with what I would call traditional leather duty gloves, the company offers the Duty and Patrol Tac models. Both are full leather gloves formed to fit the curve of your hand and have a simple elastic cuff that allows them to slip on and off with ease. The "Tac" feature on the Patrol model is actually StrongSuit's proprietary "Tac-Sense" material. Available on most of their models, this material feels like leather yet allows touch conductivity so the wearer can use touchscreen mobile computers and smart phones.
Moving on to the other end of the spectrum, StrongSuit's SWAT and SWAT Tac gloves are designed for heavy use and abuse. The nylon mesh and leather back features high-density EVA foam padding to better protect your knuckles, fingers, and the back of your hand and the Velcro wrist closure keeps the gloves secure.
In between there is the Shooter (self-explanatory), the KevGuard with superior puncture resistance, the Flash Master made with Kevlar flame-resistant fibers, the Weather Master to keep your hands warm and dry, and the Enforcer Tac, designed to be a superb all-around patrol glove. I picked two of the above I felt I could put through the greatest course of use and abuse: the SWAT Tac and the Enforcer Tac.
I hit the range with the SWAT Tacs and wasted no time putting them to the test. The padded portions on the back of the hand actually came in handy more than once and the great, tactile feel of the Tac-Sense fabric didn't inhibit my trigger feel or weapons manipulations one bit. Similarly, the Enforcer Tacs immediately found a home in my back uniform pants pocket and have been used for everything from sweeping up traffic collisions to searching suspects. They are amazingly light, breathable, and comfortable but without sacrificing a bit of protection or durability. The added sweat panel along the thumb is a really nice feature, especially while working under our intense Arizona sun.
All of these are available in sizes XXS–XXXL and can be had for $50 or less.
A.J. George is a patrol sergeant with the Scottsdale (Ariz.) Police Department who also serves as the SWAT team's crisis negotiation supervisor.
SWAT Tac Gloves:
Tac-Sense palm material for technology conductive performance
High Density EVA padded knuckle and finger protectors
Form fitted, pre-curved fingers for better fit and performance
Cinch wrist closure
Price: $43.50
Enforcer Tac Gloves:
Tac-Sense palm material for technology conductive performance
Form fitted, pre-curved fingers for better fit and performance
Breathable fabric on the back of the hand to keeps you cool
Velcro wrist closure
Terry cloth sweat wipe
Price: $21.95