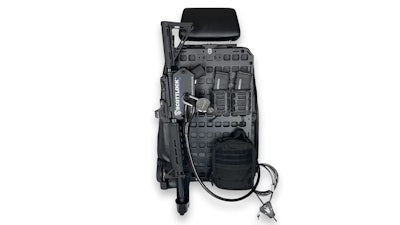 Grey Man Tactical, a provider of mounting solutions, introduces the new #305 Vehicle Locking Rifle Rack - Scottlock 15.25 X 25 RMPX Package. Designed by active-duty law enforcement officers, the #305 package is a robust, portable system that securely stores your rifle during transportation. This customizable storage solution is for anyone wanting to secure their rifle and gear.
Constructed of two steel plates, the Scottlock is covered with a military-grade polymer coating with a protective foam that protects the rifle's trigger, safety, magazine release, and assembly pins from being tampered with.
"We pride ourselves on creating gear that aid the men and women who defend us and our country," says Grey Man Tactical CEO, Paul Capdepon. "Being able to support law enforcement and first responders is what we are about."
The package includes:
one 15.25 X 25 RMPX
one Locking Rifle Mount - Scottlock LE
one Scottlock Gun Magnet Pair
one RMP Headrest Mounting Clamp
one spacer 1.75" [RMP Headrest Mounting Clamp]
one Buckle Loop-Around RMP Strap Black for seat bottom
two G-Code Soft Shell Scorpion mag carriers
one - large utility pouch
one Master Lock 5/16" Python Adjustable Locking Cable
For more information, visit www.greymantactical.com.