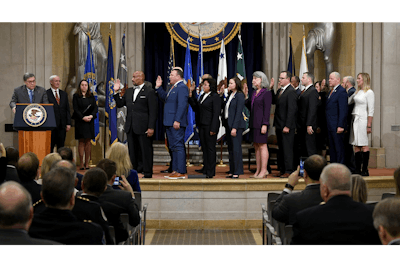 Attorney General William P. Barr announced Wednesday that he has appointed 18 law enforcement officials to the newly created Presidential Commission on Law Enforcement and the Administration of Justice.
The commission will explore how mental illness, substance abuse and homelessness are affecting law enforcement; how police departments can improve community relations; how the agencies can recruit and retain more officers; how changes in technology are affecting policing; and how to best tackle issues such as the opioid epidemic, cybercrime and the fight over warrant-proof encryption, reports the Associated Press.
"It is the rule of law that is fundamental to ensuring both freedom and security, and it is our more than 900,000 women and men on the beat who, every single day, uphold the rule of law," Barr said.
In a press release, the Department of Justice said the Commissioners, appointed by the Attorney General and announced today, are urban police chiefs, state prosecutors, county sheriffs, members of rural law enforcement, federal agents, U.S. Attorneys, and a state attorney general. In addition to their diverse experiences and backgrounds, each member brings to the Commission an expertise in formulating and shaping law enforcement policy and leading police departments and law enforcement organizations.
Commissioners on the Presidential Commission on Law Enforcement and the Administration of Justice include:
Chair: Phil Keith, Director, Community Oriented Policing Services
Vice-Chair: Katharine Sullivan, Principal Deputy Assistant Attorney General, Office of Justice Programs
David Bowdich, Deputy Director, Federal Bureau of Investigation
Donald Washington, Director, United States Marshals Services
Regina Lombardo, Acting Director, Bureau of Alcohol, Tobacco, Firearms & Explosives
Erica Macdonald, United States Attorney, District Of Minnesota
D. Christopher Evans, Chief of Operations, Drug Enforcement Administration
James Clemmons, Sheriff, Richmond County, North Carolina
Frederick Frazier, City Council, McKinney, Texas/ Police Officer, Dallas Police Department
Robert Gualtieri, Sheriff, Pinellas County, Florida
Gina Hawkins, Chief of Police, Fayetteville, North Carolina
Ashley Moody, Florida Attorney General
Nancy Parr, Commonwealth's Attorney, Chesapeake, Virginia
Craig Price, South Dakota Secretary of Public Safety
Gordon Ramsay, Chief of Police, Wichita, Kansas
David B. Rausch, Director, Tennessee Bureau of Investigation
John Samaniego, Sheriff, Shelby County, Alabama
James Smallwood, Police Officer, Nashville Metropolitan Police Department
The Commission will meet monthly for the next year and then report its findings to the Attorney General, who will submit a final report to the President.