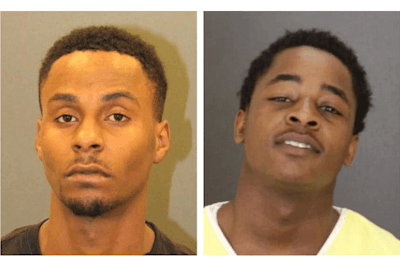 A third person has been arrested in connection with an assault on a Baltimore officer Friday that was captured on video and shared across social media. Gov. Larry Hogan said Monday state and local officials would "pursue and prosecute" those involved to "the fullest extent of the law."
Baltimore police on Sunday announced they'd arrested two people, and on Monday announced they'd arrested the third person in connection with an assault Friday night on a police sergeant. Video that circulated on social media showed assailants kicking the officer while he was detaining another man, reports the Baltimore Sun.
In Monday's news release, police said they had arrested 23-year-old Zayne Abdullah of Dundalk in connection with the attack.
Donnell Burgess, 20, had been arrested Sunday and charged with assault on police and resisting arrest in relation to the assault, the department wrote in a news release. An unnamed 17-year-old was also arrested and charged as a juvenile, police wrote.
"This disgusting incident is yet another example of the violence that has become far too common in Baltimore City," Hogan said in a tweet Monday afternoon. "None of our efforts to back up the beleaguered city police force can be successful until we do something to get the violent criminals off the streets."
He called on legislators to support his bills before the legislature this session.