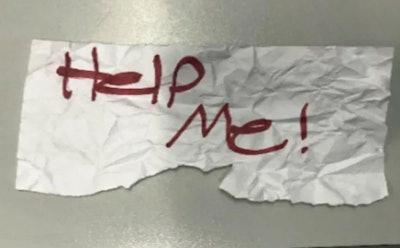 An allegedly abducted Texas girl used a "Help Me" sign to alert police to her plight in Long Beach, CA, early this month. Long Beach police rescued her and arrested a suspect.
Federal authorities say the 13-year-old was kidnapped at gunpoint in San Antonio. She was reportedly sexually assaulted multiple times by the suspect as he drove her to California.
The suspect Steven Robert Sablan, 61, of Cleburne, TX, is charged with one count of kidnapping and one count of transportation of a minor with intent to engage in criminal sexual activity.
The U.S. Attorney's Office of Central California says in a statement that the girl was abducted July 6 in San Antonio while walking down a street. Court documents say, "Sablan, driving a gray Nissan Sentra, approached the victim. Sablan allegedly raised a black handgun to his side and told her to get in the car, and the victim obeyed Sablan."
"Sablan allegedly began driving with the victim in the car and asked her how old she was. The victim replied she was 13 years old, and – after later mentioning she had a friend in Australia – Sablan allegedly told the victim he could take her to a cruise ship to visit this friend, but she had to do something for him first. He then repeatedly sexually assaulted the victim, according to court documents," the statement says.
Over the next two days, Sablan allegedly drove the victim from Texas to California and sexually assaulted her at least two more times, according to authorities.
The girl used the "Help Me" sign in the parking lot of a Long Beach laundromate.
A witness telephoned law enforcement, who upon arrival saw Sablan standing outside the vehicle and saw the victim – who mouthed the word "Help" – inside the car, court documents state. During a search of the vehicle, officers retrieved a black BB gun, the "Help Me" sign, and a pair of handcuffs. Law enforcement determined the victim was a reported runaway missing person from San Antonio.
If convicted of both charges in the indictment, Sablan would face a statutory maximum sentence of life in federal prison.