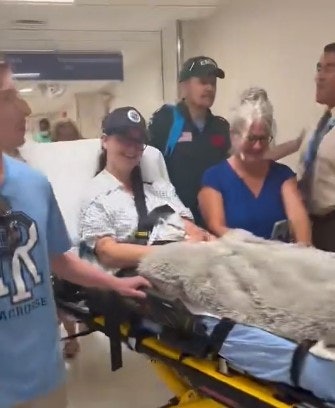 A Town of Warwick, NY, police officer was wheeled out of Westchester Medical Center Monday less than a week after suffering serious injuries in a patrol vehicle crash.
Officer Jordan Tetreault left the trauma center flanked by her fellow police officers, state troopers, EMS personnel, and the nurses and doctors who saved her life, News12 reports.
On the night of July 12, Tetreault was on duty in her patrol vehicle when an 18-wheeler broadsided the car.
It took first responders roughly an hour to extricate Officer Tetreault from her car. She was flown to Westchester Medical Center for treatment after suffering serious injuries to her entire body.
Officer Tetreault began her career with the Warwick Police Department part-time in 2021 and had just been promoted to full-time officer on July 1, according to Town of Warwick Police Chief John Rader.
Officer Tetreault is expected to make a full recovery after completing her rehabilitation.