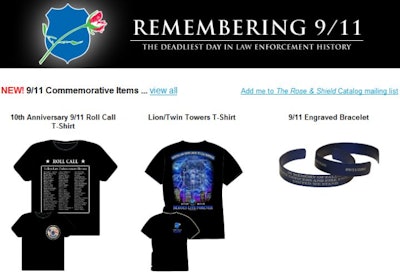 To honor the tenth anniversary of the 9/11 terrorist attacks, the National Law Enforcement Officers Memorial Fund (NLEOMF) is offering commemorative gear as a tribute to the fallen first responders.
The NLEOMF's commemorative line honors the 72 officers killed in the line of duty on Sept. 11, 2011 when the World Trade Center's Twin Towers were felled by 19 Islamist terrorists who hijacked commercial airliners.
One officer — Richard Guadagno, a sworn refuge manager with the U.S. Fish and Wildlife Service — was among the passengers who died in Pennsylvania while fighting to regain control of Flight 93 from the terrorists.
The Memorial Fund is offering a limited number of commemorative gift items designed to help ensure the sacrifice of these 72 fallen heroes is not forgotten. The items include the Roll Call T-shirt, Lion/Twin Towers T-shirt, engraved bracelet, challenge coin, Tribute to the Heroes 2012 calendar, "We Will Never Forget" patch, and 10th anniversary patch.
For more information, visit the NLEOMF's Web site.