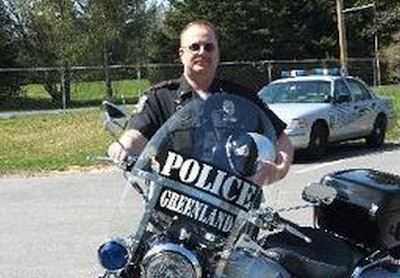 Greenland (N.H.) Police Chief Mike Maloney dragged a wounded officer to safety before he was fatally shot during a drug raid earlier this month.
Newmarket Detective Scott Kukesh, in a letter that was read at the chief's memorial service, said the chief dragged him to safety and headed back into the gunfight between officers and Cullen Mutrie.
Newmarket Police Chief Kevin Cyr said Maloney "ran through gunfire and dragged wounded officers to safety with no concern for his own well-being," during an April 15 eulogy for the chief, reports the Union Leader.
Detective Kukesh, 33, and Rochester Detective Jeremiah Murphy, 34, remain hospitalized with bullet wounds to their chests.
Maloney and the officers were shot by Mutrie while serving a search warrant at his 517 Post Road home in Greenland. Mutrie later shot and killed his estranged girlfriend, Brittany Tibbetts, 26, and then turned the gun on himself.
Officers recovered a 9mm semi-auto pistol and .357-caliber revolver from the home, according to the New Hampshire Attorney General.
Chief Maloney was remembered for his kindness and love of his work, reports the Boston Globe.
Related:
N.H. Police Chief Killed, 4 Wounded In Drug Raid