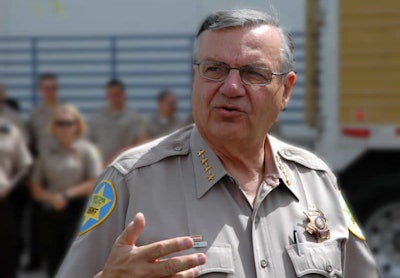 Sheriff Joe Arpaio flatly rejected the U.S. Department of Justice's demand for an independent monitor of his operations, triggering a likely federal court fight with the Obama Administration during an election year.
"I will not surrender my office to the federal government," said the Maricopa County (Ariz.) Sheriff in a press release. On Wednesday, Arpaio responded to a Tuesday letter from Deputy Assistant Attorney General Roy Austin demanding he accept the monitor.
In the letter, Austin promised a federal lawsuit and took issue with Arpaio's "episodic insistence" for more evidence of civil rights abuses. In December, the DOJ accused Arpaio's office of carrying out a pattern of discrimination against Latinos, including racial profiling.
The two sides had planned to meet Wednesday to discuss ways to resolve the racial profiling allegations. The meetings were called off.
Appointment of an outside monitor would transfer much of the decision-making power of Sheriff Arpaio's office to a person or group of people selected by the federal government. The monitor would need to approve policies, operational decisions, and new enforcement initiatives.
The move nullifies the will of Maricopa County voters who elected Sheriff Arpaio, according to a statement from the sheriff.
"I am the constitutionally and legitimately elected sheriff, and I absolutely refuse to surrender my responsibility to the federal government," Sheriff Arpaio said. "And so to the Obama administration, who is attempting to strong arm me into submission only for its political gain, I say, 'This will not happen, not on my watch.'"
In his letter, Austin claims the sheriff agreed to the monitor. However, Arpaio's Deputy Director Jack MacIntyre, an attorney, said not no such promise was made.
"They are fabricating this, because they backed out [of the meetings]," MacIntyre told POLICE Magazine. "We never agreed to a consent decree or an independent monitor. We never gave them anything in writing to say we agreed to this."
By Paul Clinton
Related:
Sheriff Arpaio Calls DOJ Report 'Sad Day for America'
Feds Sue Sheriff Arpaio, Claiming Discrimination Against Hispanics