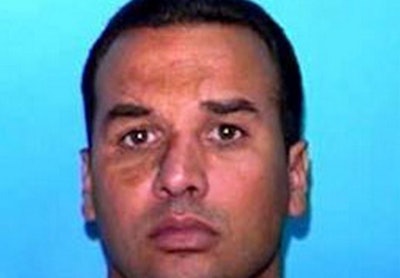 A Miami-Dade Police detective was repeatedly stabbed late Monday in Texas while transporting a sex offender, who then escaped from custody.
Detectives Jamie Pardiñas and David Carrero were transporting Alberto Morales, 42, on a flight from Miami to Las Vegas with a layover in Houston. While on the flight to Houston, Morales had acted erratically and prevented the detectives from boarding a connecting flight.
The detectives then left the Houston airport and rented a vehicle to drive Morales to Las Vegas. The detectives stopped at a Wal-Mart in Grapevine, Texas, at 11:20 p.m. for a "pit stop," according to the agency.
While Detective Carrero was inside the Wal-Mart, Morales attacked Detective Pardiñas, a 28-year veteran, with a sharp object. The detective, who was stabbed five times, received medical treatment and is now listed in serious condition.
The Grapevine Police Department has charged Morales with attempted capital murder, attempted murder, aggravated assault on a police officer, and escape.
On Tuesday, the Texas Department of Public Safety added Morales to the Texas 10 Most Wanted Fugitive list and offered a $10,000 reward for information leading to his capture.
Morales was convicted in December for burglarizing a Miami apartment in 2003 and raping two women with a butcher knife, according to Miami Police records. He had been a fugitive until 2008, when he was arrested in Nevada and brought back to Miami for prosecution.