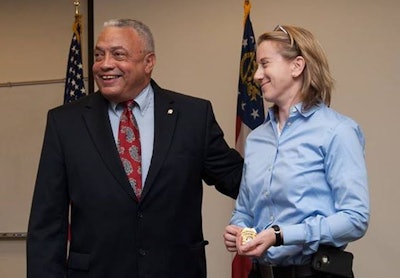 The Athens-Clarke County (Ga.) Police Department reinstated a sergeant this week six years after she was nearly fatally stabbed while working a security detail in uniform.
Courtney Gale was reinstated as sergeant, the rank she held on Dec. 11, 2007, when a shirtless shopper stabbed her 10 times in the meat aisle of a Kroger grocery store.
"It's a dream come true," Gale told the Athens Banner-Herald Wednesday. "Everything is lining up where I left off. I'm a sergeant. I passed the lieutenant's exam. I'm back in the game."
The 2007 attack came with little warning. Gale noticed the man enter the Kroger without a shirt on a winter evening. After placing a Bible in his cart, he grabbed a butcher knife and placed it on the Bible. When she went to check on him, the ground fight was on.
Gale was saved by a nurse who was shopping at the Kroger. She remained in a coma for two weeks and had several surgeries to save her leg, all while tethered to a respirator, a dialysis machine and feeding tube. She was released from the hospital 45 days later, then underwent intensive therapy.
After completing physical rehab, Gale completed a master's in public administration at the University of Georgia. She returned to the agency in a non-sworn role as a management analyst in February of 2012.
After demonstrating she had the physical and psychological abilities to perform the job, the agency rehired her.