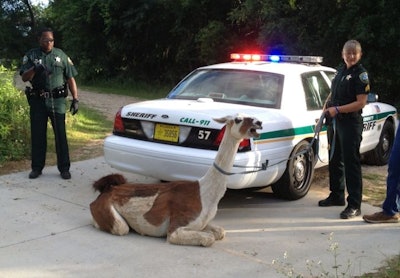 Leon County (Fla.) Sheriff's deputies used a TASER to subdue an adventurous llama Saturday morning after the large animal escaped his Tallahassee plantation.
The 7-year-old Scooter jumped a fence late Friday. By 7 a.m. Saturday, Scooter had tied up traffic on Bannerman Road in the Summerbrooke neighborhood.
Deputies had looked for Scooter since Friday evening after getting several calls from area residents having spotted him, Sgt. Dawn Dennis told the Tallahassee Democrat.
"We chased him several times before we could finally catch him," Dennis said.