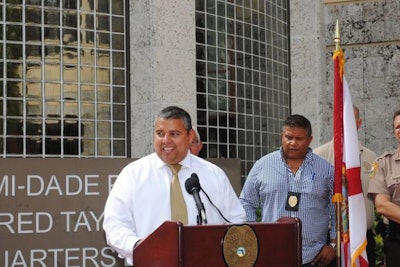 A Miami-Dade jury convicted a would-be cop killer of attempted murder and several other felonies for hurling a cinder block that struck a detective in the head and then running him down with his own cruiser.
Following the conviction, Circuit Judge Ellen Sue Venzer sentenced Michael Robertson to three life prison terms plus 30 years for the attack on Miami-Dade Police Detective Carlos Castillo.
Robertson's DNA and a fingerprint were found inside Detective Castillo's Dodge Charger. In testimony, Robertson said the evidence against him was collected with "some kind of sorcery," reports the Miami Herald. "They're using these machines and techniques we don't know about," he said.
In the attack, Castillo suffered severe brain damage, internal injuries and 12 broken ribs. Castillo lost his sense of smell in the attack, and the use of his right arm is limited.