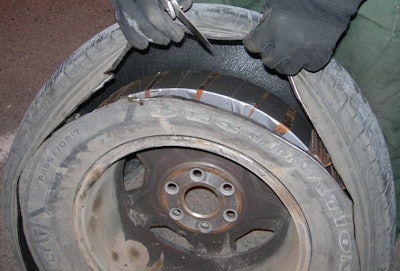 Yesterday, El Centro Sector Border Patrol agents arrested a suspected narcotics smuggler and seized more than 57 pounds of black tar heroin and 11 pounds of methamphetamine. The narcotics were concealed in all four tires of a truck.
The incident occurred at approximately 4:30 p.m., when Border Patrol agents assigned to the Indio Station in California encountered a 2006 tan Chevrolet Silverado as it approached the Highway 111 checkpoint. The driver, a 43-year-old man and citizen of Mexico, was legally present in the country.
The man and vehicle were referred to secondary for further inspection. Agents conducted a non-intrusive inspection of the truck with a backscatter X-ray system, which revealed anomalies in the truck's tires. During inspection of the tires Border Patrol agents discovered several wrapped packages containing black tar heroin and methamphetamines. The black tar heroin weighed 57.56 pounds and was worth an estimated $575,600. The methamphetamines weighed 11.80 pounds and was worth an estimated $76,700.
Border Patrol agents turned the man, narcotics, and vehicle over to the Drug Enforcement Administration for further investigation.
About the California Corridor Campaign
The California Corridor Campaign (C3) is an integrated command comprised of seven agencies: Office of Border Patrol, Office of Field Operations, Office of Air and Marine, Homeland Security and Immigration, Customs Enforcement-Enforcement and Removal Operations, Drug Enforcement Administrations and the United States Attorney's Office. Our jurisdiction encompasses the state of California. Our focus is to dismantle transnational criminal organizations, avert acts of terrorism, and prevent terrorist operatives and weapons from entering the U.S. In doing so, we secure land borders, coastal waters, and continental airspace while expediting the lawful movement of people and goods.