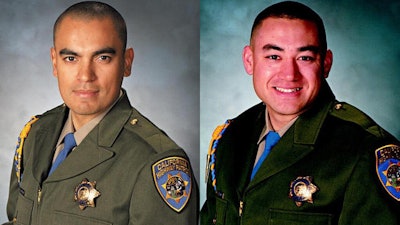 Thousands of mourners, including Gov. Jerry Brown, attended a memorial service Monday for two California Highway Patrol officers who died in a car crash on Feb. 17 as they responded to a multi-car accident, reports the L.A. Times.
Bagpipers played and hundreds of law enforcement officers, black bands across their badges, stood in silent salute to Juan Gonzalez, 33, and Brian Law, 34, the first CHP officers in the Fresno area to die in the line of duty in more than 50 years.
The flag-draped caskets of the two friends and partners sat inside the Save Mart Center on the Fresno State University campus.
Gonzalez, who had wanted to be a CHP officer from the age of 5, and Law, a former Marine, husband and father of three, were remembered for their passion and integrity.