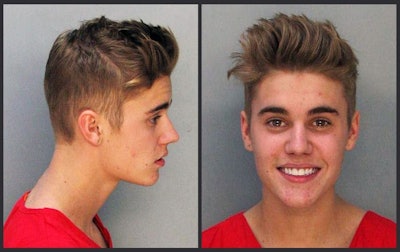 Around 4 a.m. Thursday morning, Miami Beach officers arrested pop singer Justin Bieber for drag racing, DUI, driving on an expired license, and resisting arrest, the Miami Herald reports.

"Why the f--- did you stop me?'" Bieber asked Officer Fulgencio Medina, who cornered him as he was peeling down Pine Tree Drive at 55 to 60 mph in a yellow Lamborghini, according to police report. The speed limit on that stretch of residential street is 30.

After allegedly smoking pot all day, drinking beer, clubbing, popping anti-depressants and spending some time in a recording studio, the lead-footed singer and a buddy launched the predawn race in their rented wheels.

The other driver, Sacramento-based R&B artist Khalil Sharief, lined up next to him in a red Ferrari, both of them speeding off side-by-side, northbound on the east side in the 2600 block of Pine Tree Drive, a treacherous stretch of roadway marked by large pine trees with thick roots.

Bieber was charged with DUI and resisting arrest. Members of the musician's entourage had apparently used their cars to block traffic on Pine Tree at 26th Street, near the Miami Beach Hebrew Academy and Scott Rakow Youth Center, at 4:30 a.m., creating a drag strip for the young star — who had been on a party spree all week in South Florida.