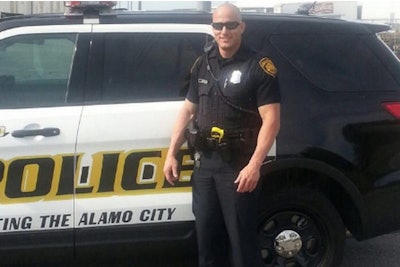 Officer Robert Deckard of the San Antonio Police Department who was shot two weeks ago pursuing armed robbery suspects died Friday morning, the San Antonio Express-News reports.
Deckard, 31, was a seven-year veteran of the force and a father of two.
He spent 13 days in the intensive care unit at San Antonio Military Medical Center with a bullet lodged in his brain before he was pronounced dead at 9:53 a.m. Friday.
The suspects accused of shooting Deckard — Shawn Ruiz Puente, 32, and Jenevieve Ramos, 28 — were charged Friday with capital murder, punishable only by life in prison without parole or execution. Their bail was set at $1 million each.
His organs will be donated, the statement said.
Before joining the police force in October 2006, Deckard worked as a jailer for the Bexar County Sheriff's Office from December 2004 to September 2006, state records show.