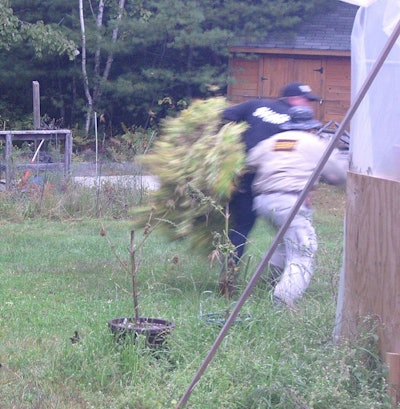 Police say they have several leads to follow after posting images of three men impersonating law enforcement officers — two dressed in black SWAT team gear and one wearing a sheriff's office uniform and armed with a handgun — wanted for robbing a local medical marijuana patient in Maine, reports the Bangor Daily News.
The trio went to the Winterport property, the location of which police are not releasing to protect the identity of the landowner, wearing clothing impersonating law enforcement personnel at about 7:30 a.m. on Sept. 21, said Stephen McCausland, spokesman for the Maine Department of Public Safety, in a Monday press release.
After getting into a verbal confrontation with the landowner, the men grabbed an armful of mature marijuana plants and took off running.
The faces of two of the three men, including the armed man who is wearing a sheriff's office shirt, are clearly visible in surveillance camera images released Monday afternoon by State Police. Investigators believe he is carrying a semi-automatic handgun.
The suspects could face multiple charges, including, felony robbery, felony theft, impersonating an officer, and criminal trespass.