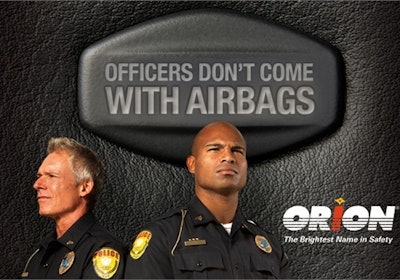 Orion Safety Products is bringing attention to police officer safety through the Share Your Flare Story Sweepstakes. The Sweepstakes gives police officers an opportunity to share their own stories of how flares have protected them in the line of duty.
According to the company, when Orion Flares are used in addition to cruiser light bars, it has been proven that flares increase lateral separation by 85%, reduce right lane volume by 89%, and reduce overall traffic speed by 15%, keeping law officers safe. Orion Flares are four times brighter than electronic substitutes.
A total of four $1,000 Visa Gift Cards will be awarded. One $1,000 Visa Gift Card will be awarded in October 2014 and another one in January 2015. Visa Gift Cards were awarded earlier this year to Bernard Noel from San Diego, Calif., and Joan Justman from Burleson, Texas. Participants may enter the sweepstakes online at www.orionsignals.com/win2 in accordance with Share Your Flare Story Sweepstakes Official Rules. Participants may share a story of how they use Orion Flares to keep safe in the line of duty. This is not a contest, the stories will not be judged, and no purchase is necessary. Participants may choose to keep the story they share private.
"Some law officers may choose to use this $1,000 Visa Gift Card for their home or family. We have also heard of some police departments coming together to enter the Sweepstakes. They plan to use the Visa Gift Card to buy supplies for their department or for community outreach," explained Jay McLaughlin, President, Orion Safety Products. "The Share Your Flare Sweepstakes is an opportunity for us to bring attention to officer safety and how Orion Flares help keep officers safe at an emergency scene. We are excited that several police officers will receive $1,000 Visa Gift Cards."
Law officers are most vulnerable when they exit their cruisers. The "Move Over" law helps keep officers safe, but Orion Flares help much more. Deploying flares in conjunction with a police cruiser light bar creates the largest safety zone. This was proven by an independent study conducted by Penn State's Thomas D. Larson Pennsylvania Transportation Institute. With flare use, a reduction in right lane volume moves passing traffic well away from an emergency scene; an increase in distance within the lane adds critical distance between passing traffic and the emergency scene when a lane change is not possible; a reduction in speed slows traffic to allow lane changes and withdrawal from the emergency scene. Because Orion Flares are brighter than electronic substitutes, they provide earlier danger recognition and improved reaction times. They are used effectively to signal an emergency day or night and in all weather conditions with no batteries or separate light source needed.
Orion Safety Products, www.orionsignals.com, based in Easton, Md., is an American manufacturer of highway and U.S. Coast Guard-approved signals. They have manufacturing facilities in Easton, Md; Peru, Ind.; and Bristol, Pa. Orion Flares are available where safety equipment is found or by calling 1-800-637-7807.