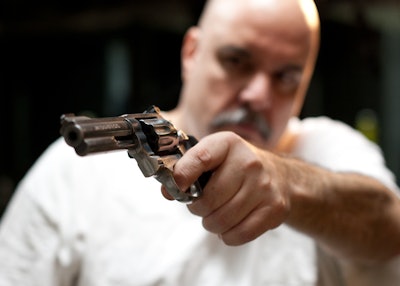 Two federal marshals and one New York City police detective were shot Monday afternoon when they went to arrest a suspect in the West Village, authorities said.
The New York Times is reporting the suspect was shot and killed in a gun battle that erupted in the normally placid neighborhood in Manhattan. The suspect's weapon was recovered at the scene, according to Police Commissioner William Bratton.
The three law enforcement officers were in the process of executing a warrant near the corner of West Fourth Street and Avenue of the Americas, Mr. Bratton said. The officers were all taken to Bellevue Hospital with injuries that do not appear to be life threatening.
The two federal marshals and the detective were part of the federal fugitive task force, which combines the efforts of federal, state, and local law enforcement agencies to locate and apprehend dangerous fugitives and assist in investigations.
The New York Post is reporting the deceased suspect is Charles Mozdir, 32, the subject of a nationwide manhunt after a family friend accused him of molesting her son while babysitting him in Coronado, near San Diego, in June 2012.
Mozdir was arrested for the molestation in days after it happened, but posted and then jumped $1 million bail. Law enforcement hunted him from California to Mexico to the deep south.