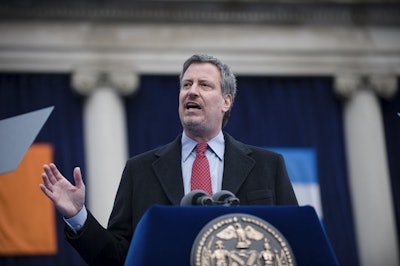 Speaking for the first time about the officers who turned their backs on him at the funerals of Rafael Ramos and Wenjian Liu, New York City Mayor Bill de Blasio said, "They were disrespectful to the families involved," reports the New York Daily News.
"I can't understand why anyone would do such a thing in the context like that," an angry de Blasio said. "And I think it defies a lot of what we all feel is the right and decent thing to do.
"I also think they were disrespectful to the people of this city, who in fact honor the work of the NYPD," he added.
De Blasio was followed by Police Commissioner Bill Bratton, who branded as "selfish" the hundreds of officers who turned their backs on de Blasio at the Liu funeral on Sunday.
"I share the mayor's concern about the idea of what's effectively a labor action being taken in the middle of a funeral," he said. "I think we need to focus much more on the vast majority who did what was expected rather than the few who embarrassed themselves and effectively took so much attention, so much attention."