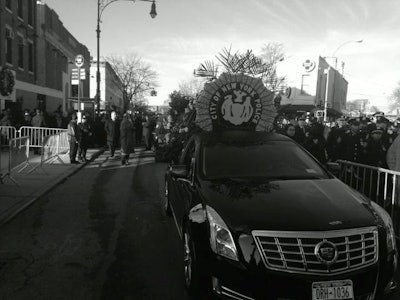 On Saturday, New York City wept for Officer Rafael Ramos, N.Y.P.D. Shield No. 6335, who was murdered Dec. 20 along with another officer for their choice of occupation, reports the New York Times.
The turnout was extraordinary. Though no reliable count was made, it appeared that more than 20,000 police officers came to Queens, from as far away as Wisconsin and California and England, some driving through the night to make it. Bordering streets were shut to traffic for blocks around. Traffic lights continued to change their colors, but there was no traffic, nothing but thick rows of police officers as far as anyone could see.
In these unsettled times, with police officers cautioned against operating alone, about wearing their uniforms when they did not need to, here they were everywhere, melded together and advertising who they were. For the funeral was as much about policing and those who attack it as about a single man. Besides the usual official presence of the governor, the mayor and the police commissioner, this ceremony brought the vice president of the United States.
The brief seconds of the killings are well-known. Officer Ramos sat with his partner, Wenjian Liu, in a squad car, on a Brooklyn street corner on an unremarkable afternoon. Without warning or provocation, the officers were gunned down execution-style by an assassin expressing an intent to end the lives of police officers. The killer, Ismaaiyl Brinsley, then shot himself on a nearby subway platform.
Police Commissioner William J. Bratton said that Officer Ramos had been studying to become a minister one day, and so he was appointing the officer the honorary chaplain of the 84th Precinct in which he served. He was also promoted posthumously to detective first grade.
Related:
Funeral Set for 2nd NYPD Officer Killed in Ambush
Biden to Attend Fallen NYPD Officer's Funeral
2 NYPD Officers Shot Dead "Execution Style" in Their Patrol Car