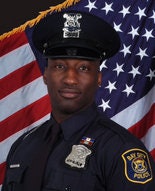 A Bay City, Mich., police officer recently wounded in the line of duty is gearing up for a much-needed vacation with his family, paid for by a community that wanted to show its support.
A fundraising effort garnered a four-figure sum to send Officer Brandon S. Murphy and his family on a trip to Kalahari Waterpark in Sandusky, Ohio.
Murphy in the early morning of Monday, Feb. 2, responded to a home invasion complaint on the city's East Side and ended up being shot in the left thigh by 17-year-old suspect Jacob M. Haglund. Murphy returned fire, hitting Haglund in the shoulder, abdomen, and neck, wounds from which he died on Sunday, Feb. 15.
Following a Michigan State Police investigation, prosecutors ruled the shooting justified.
"The fundraiser idea was created by Rebecca Menzel, who is a paramedic with McLaren Bay Region hospital," Rod Schanck, president of the Fraternal Order of Police Lodge 103, told MLive. "When I heard of her idea, the FOP Lodge 103 got on board full force."
The fundraiser raised more than $4,000, Schanck said.
"A majority of the funds were used to purchase gift cards to Kalahari," he said. "The remaining funds were used to purchase gas, food, and gift cards for the family."