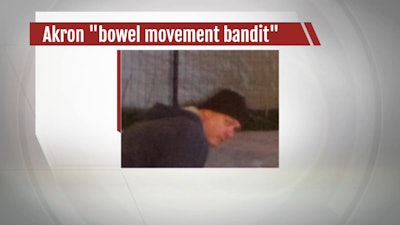 Akron, Ohio, officers are searching for someone they say has defecated on 19 parked cars in driveways since May 2012.
The bowel movement bandit strikes between 4 and 6 a.m. On Wednesday morning, a resident caught the suspect on film. She set up a camera after the seventh time that someone had pooped on her car while it was parked in her driveway, ABC5 TV reports.
One man said that the defecator has struck his car six times, and has even smeared it on his hood, door handles, gas tank cover, windshield and mirrors.
So far none of the victims have recognized the man in the photo, but Akron Police said Thursday that the department has received about a dozen tips about the identity of the man.