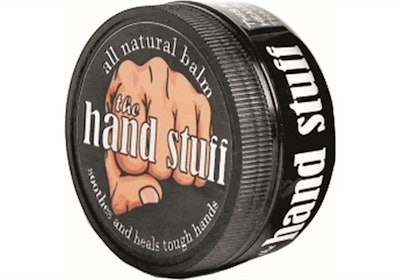 The "Hand Stuff" officially launched its all-natural hand balm this year. The "Hand Stuff" is the creation of Michael Hellerman, formerly of the Jane Carter Solution. With 20 years of experience in the grooming industry, Mr. Hellerman created the "Hand Stuff" after noticing the rough hands of numerous hardworking patrons of his favorite morning coffee stop. He was inspired to help those plumbers, welders, construction workers, etc. improve the condition of their hands, and so the "Hand Stuff" was conceived in 2014.
The "Hand Stuff" is designed to nourish and replenish the skin of dry, cracked, chapped, and damaged hands. Comprised of all-natural ingredients (shea butter, coconut oil, vitamins A and E, and lanolin), the "Hand Stuff" has minimal environmental impact. Sold in a 2-ounce jar that conveniently fits into any bag or compartment, the "Hand Stuff" is easy to carry with you and apply throughout your shift as needed.
For more information, visit thehandstuff.com.