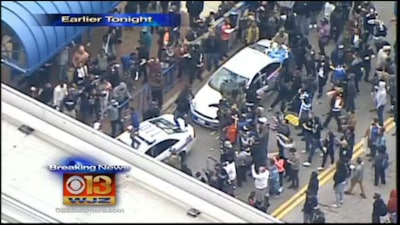 Residents of Baltimore who were shaken Saturday by violent protests over the death of a man in police custody awoke Sunday to sweep up shattered glass and board up broken windows, while authorities upped the count of those arrested to nearly three dozen.
Authorities said Sunday that 35 people had been arrested — 31 adults and four juveniles — on charges that included failure to disperse, rioting, assaulting police, burglary, theft and destruction of property. Six officers suffered minor injuries.
City leaders and the NAACP blamed the violence on "outside agitators" and said the arrests of so many from Baltimore did not reflect instigators who escaped apprehension, the Washington Post reports. One of the last speakers at a City Hall rally Saturday told the crowd that he understood they wanted to go to Camden Yards and assured them they would soon "be released" and be on their own.
Although the protests were peaceful for much of Saturday morning, they took a violent turn around 6 p.m. Baltimore City police donned riot gear and tried to move people out of the downtown area, concerned for the safety of residents and thousands of Orioles fans who were watching the team play the Red Sox at Camden Yards, WJZ TV reports.
Tessa Hill-Aston, president of the Baltimore branch of the NAACP, said the violence at the end of what had been hours of peaceful protest trampled the message of the day. "The last two hours was about breaking things up, and nothing about Freddie Gray," she said.
Both affected areas of the city returned to quiet Sunday, and community leaders said protests were suspended in deference to the wake on Sunday afternoon and funeral on Monday for the man whose death sparked the protests. Freddie Gray, 25, died April 19, a week after he was arrested on a West Baltimore corner, pinned to the ground and dragged to the back of a police wagon.
Police said he died of severe injuries to his spine and are trying to determine how the injuries occurred.
Six officers have been suspended, and police plan to turn over their cases to prosecutors on May 1. But demonstrators demanding murder indictments have turned Baltimore into the latest in a long list of cities grappling with deaths of young black men at the hands of police.