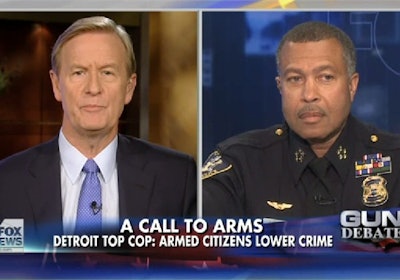 In a city plagued by chronic unemployment and crime and guarded by a dwindling police force, residents of Detroit are increasingly taking protection of themselves, their families and property into their own hands. Those who do so responsibly have the blessing and backing of Detroit Police Chief James Craig.
"When you look at the city of Detroit, we're kind of leading the way in terms of urban areas with law-abiding citizens carrying guns," Craig said recently.
The chief's call to arms, which first came in December, 2013, has been answered by thousands of men and women tired of being victims and eager to reclaim their beleaguered city. In 2014, some new 1,169 handgun permits were issued, while 8,102 guns were registered with Detroit's police department - many to prior permit holders who bought new firearms. So far in 2015, nearly 500 permits have been issued by the department and more than 5,000 guns have been registered.
The chief told Fox News Monday that crime has dropped 12% this year in the Motor City, and he credited the drop to a legally armed public fighting back against the criminals.