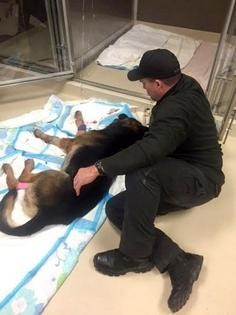 Jethro, the Canton, OH, Police K-9 shot while foiling a burglary attempt early Saturday morning, has died.
The Canton Police Department posted this on its Facebook page Sunday morning: "It is with heavy hearts that we must tell you all that we lost Jethro. He took a sudden turn for the worse and has passed."
Officer Ryan Davis, with Jethro, was responding to a burglar alarm at Fishers Foods at 1272 Harrison Ave. SW. Jethro was shot during a confrontation with the suspected burglar, who also was shot in the ankle and is in police custody, CantonRep.com reports.
"There's not a doubt in my mind that that dog saved officers' lives," Police Chief Bruce Lawver said Saturday.