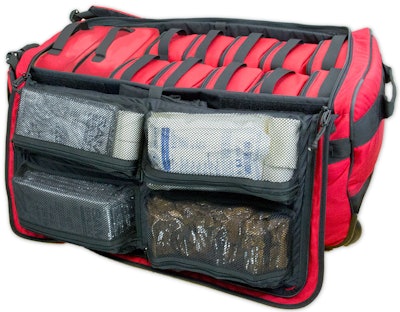 TSSi has released its newest TACOPS product, the Rolling Mass Casualty Kit.
Close to a decade ago, TSSi provided U.S. military forces with the first viable combat Mass Casualty Response Kit designed to provide emergency trauma treatment for 16-20 service members subjected to life-threatening injuries. It also included litter movement for six persons. This was closely followed by TSSi's Mass Casualty Incident Response Kit, which was specifically intended for civilian use. Both kit versions are currently pre-propositioned within the Department of Defense, in universities, and throughout major cities with emergency responders and in locations where large groups of people gather.
The first Rolling Mass Casualty Kit is configured inside of a rolling duffel. The Kit features shoulder straps for ease of movement on stairways and includes sufficient emergency medical components to treat more than 30 casualties having life threatening injuries. Like its predecessors, the new kit continues to provide litter transport for six persons.
TSSi is a certified and verified Service-Disabled Veteran-Owned Small Business that has been providing specialized operational equipment and logistics support around the world for 35 years. Their mission is to provide mission-focused, time-sensitive, value-added equipment and logistics services solutions, delivered with uncompromising integrity – anytime, anywhere. For more information about TSSi, visit www.tssi-ops.com.