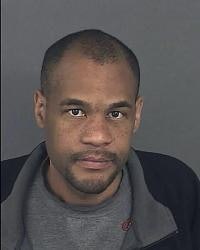 John Adsit has not been able to play basketball with his son or twirl his daughter in the air because of injuries suffered a year ago while on duty as a Denver police officer.
Friday, the nine-year veteran forgave the man who drove over him.
Adsit was injured last December when Christopher Booker drove into a group of bicycle cops after having a seizure while driving. Booker dabbed at his eyes during Friday's sentencing hearing, in which he was sentenced to six years of community corrections.
Adsit described a difficult recovery that still leaves him physically impaired and unable to return to work.
Adsit was dragged more than a dozen yards under Booker's Mercedes and underwent multiple surgeries to repair crushed ribs, a punctured lung, a severed artery in his leg, a broken femur, and a cracked pelvis. He was in critical care for a month.
Booker's time in community corrections will consist of an incarceration period followed by time spent in a halfway house and includes treatment and a requirement to have a job during the day, said Deputy District Attorney Doug Jackson. Jackson was not immediately clear how long Booker would remain incarcerated, the Denver Post reports.
Booker, who hid his history of seizures from the Colorado Department of Motor Vehicles to get a driver's license, pleaded guilty to two felony charges in October after driving into a group of four Denver police officers during an East High School student protest along East Colfax Avenue near Williams Street on Dec. 3, 2014.