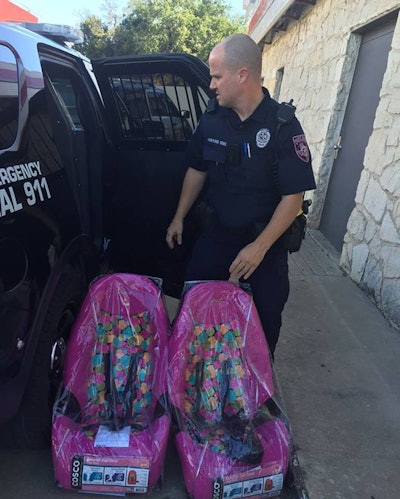 A down-on-his-luck father is thanking two Cedar Park, TX, police officers after they purchased car seats for his children after a recent traffic stop.
Officer Justin Gower pulled over a truck traveling along South Bell Boulevard on Oct. 17 for having an expired registration and malfunctioning light.
"When I was up there talking to the driver, that's when I realized there was three kids in the back seat without car seats," said Gower.
He hadn't met the man before, but realized he heard about him from other officers.
"Remember hearing the story about, you know, he's saving money, he's living in a car, he's trying to get his family down," Gower recalled.
So he called in Officer Cale Hawkins, who had talked with the man just a few weeks ago.
In that moment, Gower and Hawkins made a judgment call, KVUE TV reports.
"We just kind of stepped off to the side and said we need to kind of do the right thing and get these people some car seats," said Hawkins.