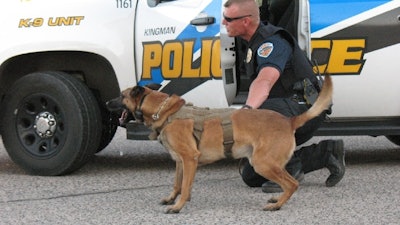 A Kingman, AZ, police K9 has passed away after a search for lost hikers in Arizona.
Kingman police say K9 Amigo, a Belgian Malinois, died Saturday morning at a veterinary critical care facility in Las Vegas.
Authorities say the K9 was helping searchers on Monday find two injured hikers that were stuck on a mountain range by White Cliffs.
The hikers were found and treated for minor injuries, but police say Amigo started to show signs of heat exhaustion and was immediately transported to Veterinary Emergency and Critical Care.
Despite showing signs of improvement since the Wednesday incident, officers told NBC Las Vegas that K9 Amigo suffered from a sudden medical trauma and died from his injuries.