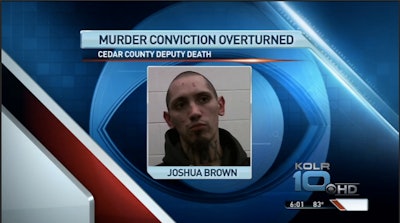 A judge on Monday overturned the murder conviction of a man accused in the death of a Cedar County (MO) Sheriff's deputy.
In May, a jury found Joshua Brown, 30, guilty of second-degree murder for the November 2014 death of Deputy Matthew Chism as well as drug possession, hindering prosecution and tampering with evidence.
On Monday, Greene County Circuit Judge Calvin Holden overturned the murder and hindering convictions and sentenced Brown to 10 years on the drug charge and 7 years on the tampering charge, according to Cedar County Prosecuting Attorney Ty Gaither. The sentences are to be served concurrently, Ozarks First reports.
According to a probable cause statement, Chism tried to stop a driver at the intersection of U.S. 54 and Route 82 because his lights were not working properly. The driver sped off and Chism followed to the intersection of Hickory and High streets.
At the intersection, the patrol said William Collins, 28, of El Dorado Springs got out of the vehicle and ran away. Chism got out of his car to pursue Collins. The patrol said Chism and Collins got into a physical altercation, leading to the exchange of gunfire. Collins was dead at the scene. Chism died about an hour after the incident at the local hospital.
Brown admitted to investigators that he was the driver of the vehicle and that he threw items out of the vehicle as he and Collins were fleeing from Chism.