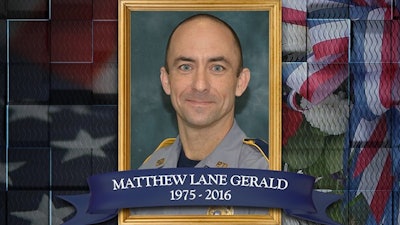 The final goodbyes have begun for the officers slain in an ambush shooting in Baton Rouge, LA, last Sunday.
Thousands of people, including officers from agencies nationwide, attended the funeral service for Officer Matthew Gerald, 41, of the Baton Rouge Police Department, at Healing Place Church on Friday. It started around 11 a.m. and ended just before 1 p.m.
Following the funeral was a procession to his final resting place at the Louisiana National Cemetery in Zachary, WAFB TV reports.
Gerald, a Marine and Army veteran, graduated from the Baton Rouge Police Academy in March 2016. According to his wife, Gerald had only just been released to work on his own on July 5. Gerald leaves behind a wife and two daughters.
Gerald was one of six officers shot during the ambush shooting and one of three killed.
The funeral for East Baton Rouge Sheriff's Deputy Brad Garafola is scheduled for Saturday. Services for Baton Rouge Police Officer Montrell Jackson are planned for Monday.