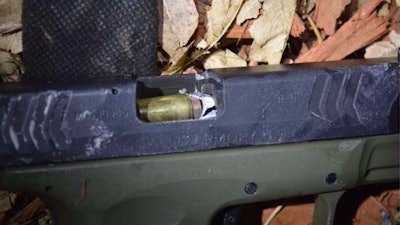 A Jefferson County (CO) sheriff's deputy who was involved in an off-duty shooting has been cleared.
The Aurora Sentinel reports that Arapahoe County prosecutors on Wednesday said Deputy Jose Marquez acted appropriately when he exchanged gunfire with attempted robbery suspects in an apartment parking lot in Aurora in January.
Marquez was visiting his girlfriend when two armed suspects approached him with their guns drawn. He was shot multiple times in the chest and abdomen before the suspects ran away.
One of the suspects was wounded in the leg and arrested. The other suspect fled and has not been identified, KUSA TV reports.
One of Marquez's bullets struck the suspect's pistol, traveling straight down that gun's barrel and disabling it. Officials say such a shot is "one in a billion."