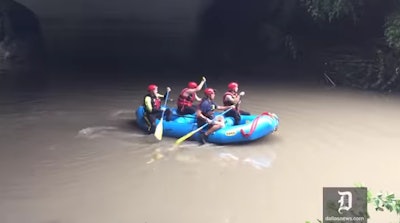 VIDEO: Texas Officer Presumed Dead After Being Swept Away by Flood Waters
An off-duty Southern Methodist University police officer missing since he was swept into the flooded Turtle Creek in Dallas, TX, early Tuesday is presumed dead, officials said.
The search for the officer, who was working an off-duty security job, initially focused on the area around Blackburn Street in Uptown.
In a news conference about 11 a.m., officials said they had expanded the search to a 2-mile area between Fitzhugh Avenue and the Trinity River. The search is being treated as a recovery effort instead of a rescue, they said.
A Dallas Fire-Rescue team with sonar technology is trying to locate the officer, who lost contact with authorities shortly after 1:30 a.m. Water in the area has receded, which officials said will help with the search, reports the Dallas Morning News.
The officer, whose name was not released, was working a security job at a construction site near Turtle Creek and called a dispatcher to report that his car was being moved by water as it came over his hood.