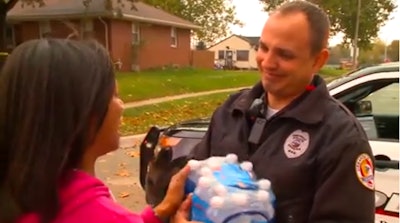 Des Moines, IA-area citizens are showing their support for law enforcement one day after the ambush murders of Urbandale Officer Justin Martin and Des Moines Sergeant Anthony Beminio.
In Urbandale, a woman brought water and food to an officer, and offered him a hug in an emotional moment.
A memorial has been set up in front of the Urbandale Police Station. Flowers are already starting to pile up at the memorial.
Hurts Donut Company in Iowa City/Coralville is selling blue line donuts for fallen officers. 100% of the proceeds will be donated.
Hy-Vee, Inc. Chairman, CEO and President Randy Edeker announced Wednesday that all Des Moines-area Hy-Vee stores will collect customers' donations to benefit the fallen officers' families. To supplement customers' donations, Hy-Vee will give $25,000 to each officer's family.
Des Moines police said donations for the officers should come to one source, KCCI TV reports.
"It has been brought to our attention that there are GoFundMe accounts set up, purporting to be established by the friends and family of Sergeant Beminio and Officer Martin. There are no GoFundMe accounts being managed, or authorized by the friends or family of the officers.
Below is a link to the official memorial funds established for Sergeant Tony Beminio and Officer Justin Martin. These accounts have been established at the Des Moines Police Officers' Credit Union."
https://squareup.com/store/des-moines-police-officers-credit-union