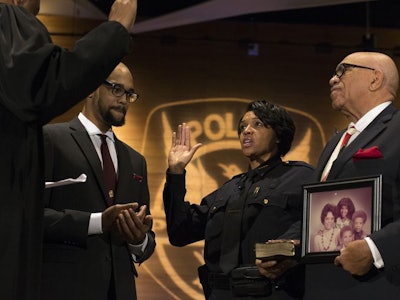 Jeri Williams was sworn in Friday as the 45th police chief of the Phoenix Police Department. She is the city's first female chief.
Williams has said that recognition as the city's first female police chief is an honor, but she quickly adds that "She's a police officer first, just like the men and women she serves with, side by side."
Williams began her career as a police officer trainee with the Phoenix Police Department in 1988 after graduating from Maryvale High School and receiving her Bachelor of Arts from Arizona State University. She rose through the ranks from a patrol officer walking the beat to assistant chief over patrol operations in south Phoenix. In 2011, she left Phoenix to become the chief of police in Oxnard, CA, where she says she gained first-hand knowledge of community-based policing.
"Most of the time our assistant chiefs leave to become chiefs of police throughout the state of Arizona and different cities throughout the country, but it's very rare and the first time in our history that we get a return on our 22-year investment and we finally got that return with Jeri Williams. So welcome home," said Councilman Michael Nowakowski:
Chief Williams said after taking her oath that she was ready to lead the department and again serve the city. "The historic nature of this assignment and promotion is absolutely nothing I take lightly nor is it anything I take for granted. I. Am. Your. Chief. I'm a proud and humble representative of this city, the Phoenix Police Department, and the community. And as I've said before, 'To whom much is given, much is required.' I have been given so much by so many of you inside of this room as well outside those doors and it is now required of me to step out on faith, leadership, experience, and grace and lead this agency forward into a bright future."
POLICE Magazine Publisher Leslie Pfeiffer attended the swearing in ceremony. "It was a historic and moving event," she said. "It was historic in the sense that the first female police chief of the sixth largest city in the county was sworn in as chief. It was also moving personally for me in that I was just one year ahead of her at our high school in west Phoenix, the same city, the same community she was born and raised in and is now the top cop for…she knows it, and the agency from top to bottom. #PantherPride"