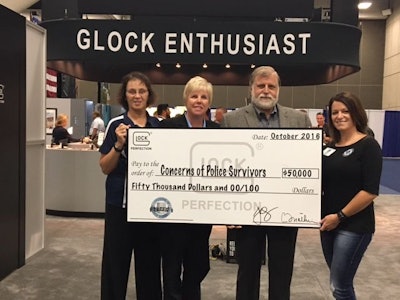 Glock Inc., donated $50,000 and a commemorative 30th Anniversary Pistol for auction to Concerns Of Police Survivors (C.O.P.S.) on Monday, Oct. 17, at the annual International Association of Chiefs of Police (IACP) conference held at the San Diego Convention Center in San Diego, CA.
The donation to C.O.P.S. assists in providing support to the surviving family members of law enforcement officers who have died in the line of duty. "Organizations like C.O.P.S. provide hope and support for family members during a time of tragedy," said Bob Radecki, National Sales Manager at Glock. "It means a great deal to Glock to provide for those left behind by their loved ones."
Radecki made the presentation on behalf of Glock. On hand to receive the donation on behalf of C.O.P.S were National President Brenda Donner, Executive Director Dianne Bernhard, and Northern California Chapter President Susan Moody.
"The mission is to rebuild shattered lives but the organization is here to help survivors through the tragedy," said Susan Moody, surviving spouse and Northern California Chapter President. "It is about finding a new normal and about hope, not grief."
"We could not do it without the support of Glock year after year," added Dianne Bernhard, Executive Director of C.O.P.S.
The 30th Anniversary Pistol, a hand-engraved G17 Gen 4, will be raffled off at the 2017 National Conference on Officer Wellness and Trauma in Grapevine, TX, to raise funds to support C.O.P.S. programs. To purchase tickets online, visit https://www.concernsofpolicesurvivors.org/gunraffle.html
To learn more about Glock corporate social responsibility and other news, visit https://us.Glock.com/news.
For more information about Glock, visit https://us.glock.com.