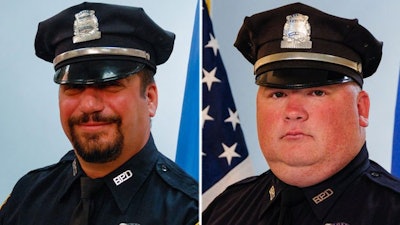 Two veterans of the Boston Police Department have been identified as the officers critically wounded late Wednesday night during a shootout with an armed man inside an East Boston home.
Boston Police Commissioner William Evans said Officer Richard Cintolo and Officer Matt Morris both remain in stable but critical condition following a violent confrontation on Gladstone Street.
"They're recovering, which is really good news," said Evans.
Cintolo is a 27-year veteran of the department while Morris has been an officer for 12 years, CBS Boston reports.
Evans said officers responded to the home after a man called 911 and said his roommate, 33-year-old Kirk Figueroa, was threatening him with a knife.
When Morris and Cintolo went into the house to investigate, police say Figueroa opened fire with a tactical shotgun.
Figueroa was shot and killed by other officers who responded to the scene who also pulled the wounded officers to safety.
Nine other officers were treated at a local hospital for injuries and stress.