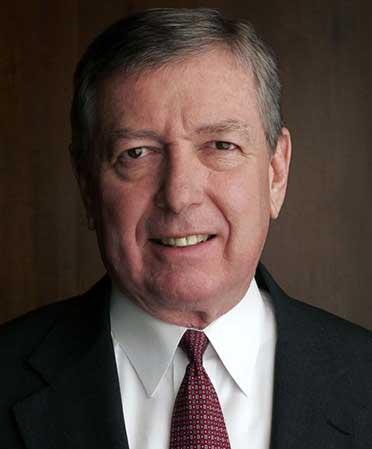 Former U.S. Attorney General John Ashcroft has been appointed Chairman of the Board of Directors of the National Law Enforcement Officers Memorial Fund (NLEOMF), a nonprofit organization established in 1984 to tell the story of American law enforcement, promote officer safety, and honor those who serve and sacrifice.
Mr. Ashcroft, who will be serving in a voluntary capacity as Chairman, has been a longtime supporter of the Memorial Fund, having assisted the organization for the past decade in its campaign to build the National Law Enforcement Museum. Mr. Ashcroft has served on the Museum's National Honorary Campaign Committee for many years and helped launch the capital campaign—called "A Matter of Honor"—in 2007. The Museum is now under construction in Washington, DC, and is scheduled to open in 2018.
"I am honored to serve as Chairman of the Board of the National Law Enforcement Officers Memorial Fund providing thought leadership and governance oversight at an important time in the organization's history. The recent growing disrespect for the rule of law demonstrated in some American communities troubles me greatly, and it should not be ignored," Mr. Ashcroft declared. "The Memorial Fund is working to strengthen the bond of trust and respect between law enforcement officers and our citizenry, and those efforts are needed today more than ever."
Mr. Ashcroft expressed particular concern about the alarming number of law enforcement officers who have been targeted recently in acts of violence. "Forty-one officers have been shot and killed already in 2016," he reported. "Fourteen of those firearms-related deaths were the result of ambush attacks, including five in Dallas and three in Baton Rouge. We must end this senseless violence before more lives are lost. This effort is one of the Memorial Fund's top priorities, and it has my full commitment."
Mr. Ashcroft served as the 79th Attorney General of the United States (2001-2005) under President George W. Bush. Prior to his service as Attorney General, he served as Attorney General of Missouri (1976-1985), as Governor of Missouri (1985-1993), and as U.S. Senator from Missouri (1995-2001). Since 2005, Mr. Ashcroft has headed up The Ashcroft Group, a strategic consulting firm.
Mr. Ashcroft is taking over the leadership role from longtime Chairman and founding Chief Executive Officer (CEO) Craig W. Floyd, who relinquished the chairmanship role in March, but will continue to serve as the organization's President and CEO. Jon Adler, President of the Federal Law Enforcement Officers Association Foundation, has been serving in an interim capacity as Chairman of the Memorial Fund and will now continue to serve as Vice Chairman. Hollywood icon Clint Eastwood serves as the Memorial Fund's Honorary Chairman. The NLEOMF Board of Directors is comprised of 16 national law enforcement organizations, as well as three corporate partners.
"We could not be more proud and honored that General Ashcroft has accepted our invitation to serve as Memorial Fund Chairman," declared Mr. Floyd. "His determined commitment to public safety during his distinguished career as Governor, U.S. Senator, and U.S. Attorney General, coupled with his steadfast support of the law enforcement profession, make him a perfect fit for this important leadership role."
The Memorial Fund recently began construction on the National Law Enforcement Museum in Washington, DC. The three-story experiential Museum will offer high-tech interactive exhibitions, along with thousands of historical artifacts to tell the story of American law enforcement. The Museum will feature a Hall of Remembrance that will chronicle the lives of the officers who made the supreme sacrifice. As the largest and most comprehensive law enforcement-focused museum in the world, the institution is designed to help visitors better understand and appreciate law enforcement's vital role in our society.
In addition to the Museum, the Memorial Fund built and now operates and maintains the National Law Enforcement Officers Memorial in partnership with the National Park Service. The Memorial was dedicated in 1991 in Washington, D.C.'s historic Judiciary Square. The Memorial's marble walls are inscribed with the names of 20,789 American law enforcement officers who have died in the performance of duty, dating back to the first known death in 1791.
For more information, visit www.nleomf.org or www.LawMemorial.org.