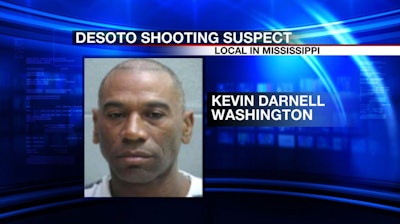 Two DeSoto County (MS) Sheriff's deputies were shot and wounded Wednesday night in a gunfight with a carjacking suspect. The suspect was killed.
DeSoto County Sheriff Bill Rasco identified the two deputies shot as Patrol Sgt. Hunter Garrett and K9 Officer Lee Hutchins.
Garrett was shot in the foot and released early Thursday morning. Hutchins underwent surgery Wednesday night and remains in the hospital.
The suspect has been identified as Kevin Darnell Washington, 54, Local Memphis reports.
Authorities say Kevin Darnell Washington has nine aliases. His criminal history includes:
1980 - Burglary & Larceny
1983 - Larceny
1985 - Unlawful Possession of Controlled Substance
1985 - Armed Robbery & Kidnapping
1990 - Armed Robbery
2011 - Robbery out of Florida