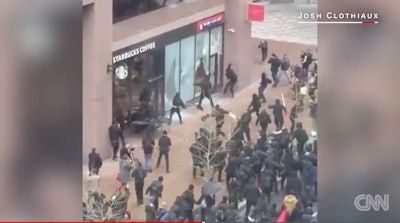 A pair of police officers were injured and 95 protesters arrested after they smashed windows, damaged cars and threw rocks at police near Donald Trump's inauguration ceremony on Friday in Washington, D.C.
Two DC police officers and one other person were taken to the hospital for undetermined injuries after run-ins with rioters, DC Fire Spokesman Vito Maggiolo told CNN. The injuries are non-life threatening.
After the swearing-in ceremony, demonstrators near 12th and K streets were throwing rocks and bottles at police, who were in riot gear and attempting to disperse the crowd. A large number of police were using smoke and flash-bang devices to try to scatter the protesters.
Acting DC Police Chief Peter Newsham told CNN that there were several hundred protestors who were confronting police, while thousands of other demonstrators were acting in a peaceful fashion to get their point across.
Protesters "acting in a concerted effort engaged in acts of vandalism and several instances of destruction of property," the police said in an earlier statement. "More specifically, the group damaged vehicles, destroyed the property of multiple businesses, and ignited smaller isolated fires while armed with crowbars, hammers, and asps."
Police said there were 95 arrests as of 2 p.m.
"Pepper spray and other control devices were used to control the criminal actors and protect persons and property," police said. "During the incident, police vehicles were damaged and two uniformed officers sustained minor injuries from coordinated attacks by members of the group that were attempting to avoid arrest."