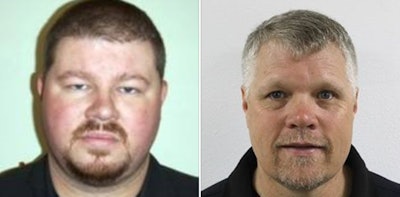 Two deputies with the Bonner County (ID) Sheriff's Office were each shot three times while serving an arrest warrant for battery at the suspect's home Monday, reports KHQ.
Deputy Michael R. Gagnon, 53, and Deputy Justin M. Penn, 30, are both expected to survive. Deputy William T. Craffey, 47, was not injured in the incident. Deputy Gagnon is listed in serious condition and Deputy Penn is listed in fair condition.
The suspect, 30-year-old Adam Deacon Foster, is still in the hospital and is listed in fair condition.