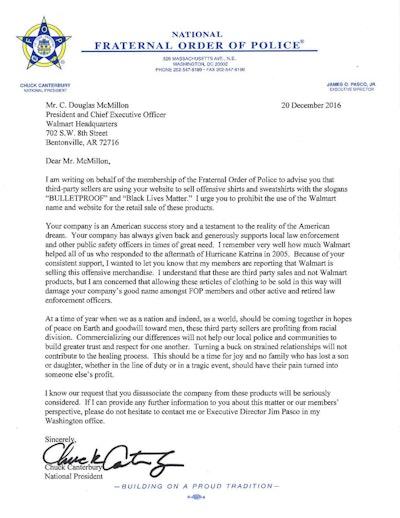 Walmart removed several varieties of shirts and hoodies with the slogan "Bulletproof: Black Lives Matter" from its website, a spokesperson confirmed Wednesday, after the Fraternal Order of Police complained they were offensive.
"Like other online retailers, we have a marketplace with millions of items offered by third parties that includes Blue Lives Matter, Black Lives Matter and All Lives Matter merchandise," said a spokesperson for the world's largest retailer, with more than $482 billion in revenue. "After hearing concerns from customers, we are removing the specific item with the 'bulletproof' reference."
The head of the Fraternal Order of Police wrote an open letter to Walmart Tuesday night requesting that the company to take down "Black Lives Matter" merchandise from its website, CBS News reports.