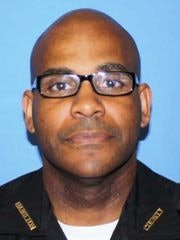 An off-duty Hamilton County, OH, sheriff's deputy fired a shot at and narrowly missed a convenience store robbery suspect after the man pointed a gun at him, a sheriff's spokesman said.
The gunshot startled the suspect, Simeon Thomas, who dropped his weapon and tried to flee, but Deputy Terry Harper took him into custody without further incident, said Mike Robison, sheriff's spokesman.
No one was hurt, reports WXIX and Cincinnati.com.
The incident unfolded about 5:45 a.m. Wednesday at the United Dairy Farmers store off North Bend Road in Cheviot.
"He was in uniform and was getting coffee when a masked armed suspect burst through the front door, displays a firearm and demands cash from the clerk," Robison said. "Preliminary indications are the deputy followed policies and procedures and did an outstanding job."
Thomas has been charged with two counts of aggravated robbery, one count of felony assault on a police officer and receiving stolen property.