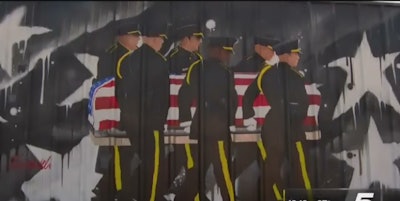 Dallas officials are asking that a mural honoring law enforcement officers who died in a sniper attack last year be taken down or altered because it violates city codes.
The owner of Last Call Lounge in downtown Dallas did not have a permit to use metal siding to construct the 8-foot fence on which the mural was painted, according to a violation notice issued May 25. Inspectors said the material blocks visibility at a nearby four-way stop.
Cesar Rodriguez, who operates the lounge owned by his cousin, installed the siding on a fence that existed on the property when work began on the mural more than a month ago.
After receiving the violation notice, he applied for a permit to build the fence and use the metal siding. He also hired workers to move the fence back three feet to increase visibility at the intersection.
The $2,100 in alterations added to an already expensive project that cost about $15,000, Rodriguez said.
Inspectors have yet to assess whether the alterations meet compliance standards.
It is set to be reinspected on Aug. 2, NBCDFW reports.